At times, we become so annoyed from the zit crowding our face that we pop it deliberately and welcome a humongous dark spot to take its place!
Almost every other product in the skincare industry is cordially designed to help you care for the tiniest pimples that occur after your skin loses a gruelling hormonal battle during periods!
We want to take the spotlight away from our blemishes and fine lines – literally – and focus on dark spots and hyperpigmented areas that are often overlooked.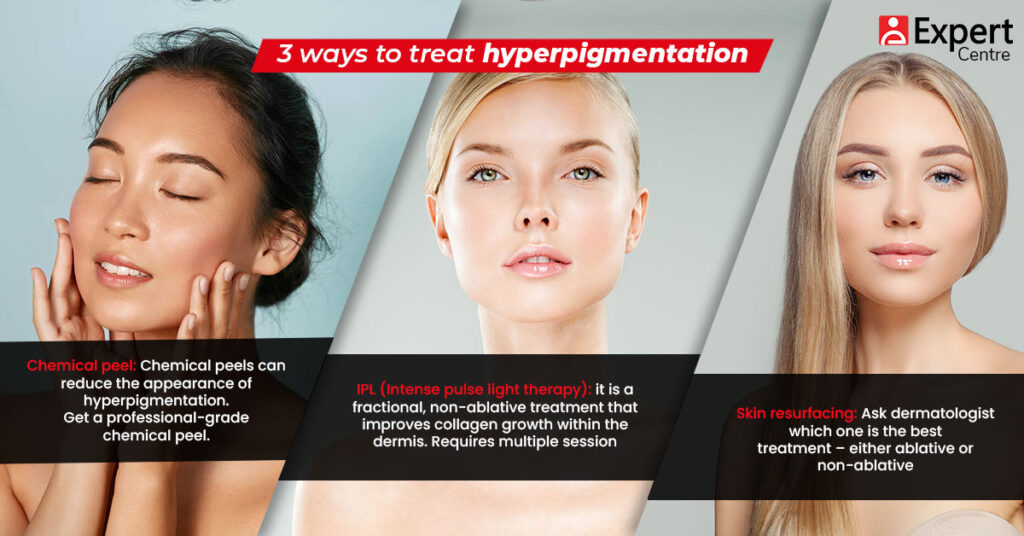 Hyperpigmentation – The Roots of all Evil
Hyperpigmentation occurs in a reaction to ultraviolet rays of the sun that in turn increases the production of melanocytes, the cells responsible for secreting melanin or the pigment that gives us our skin colour.
Hyperpigmentation or melisma is a common skin condition that pops up during the wee hours of the night and creeps up on your face, only to shock you the moment you witness the horror in the mirror in the morning!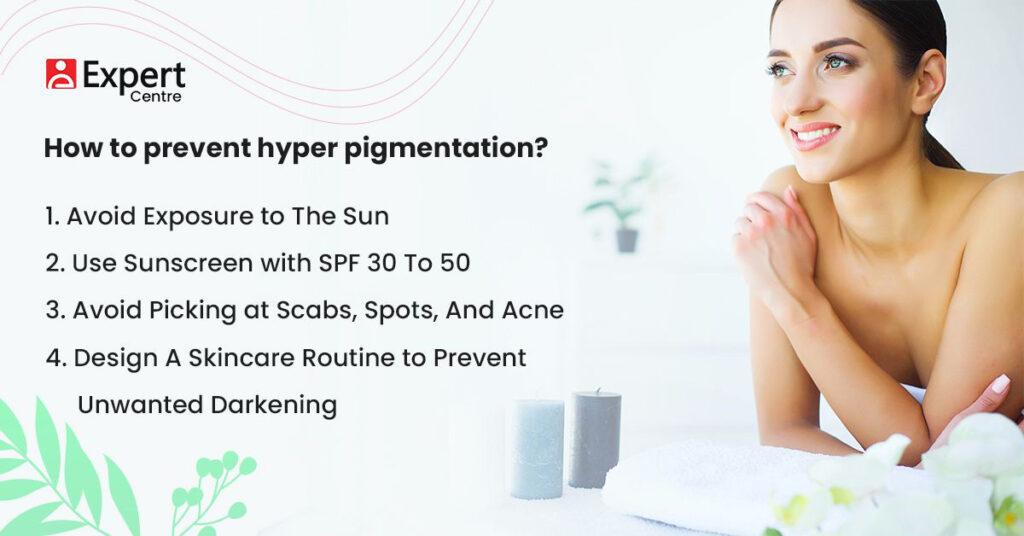 What Causes Hyperpigmentation?
Ranging from known causes such as evident skin trauma to a multitude of inadvertent and abrupt factors such as hormonal imbalance due to pregnancy, the contraceptive pill or stress triggers, hyperpigmentation results in the form of blotches on your skin at times when you wouldn't even know.
Once your skin is at the mercy of the sun's rays, you can kiss your high-end skincare and makeup goodbye!
Soon, patches, blotches and dark spots will begin to emerge on your nose, cheeks, upper lip and forehead in a symmetrical array that might appear red when you're out in the sun for too long.
According to the Founder of the Black Skin Directory, Dija Ayodele, the female hormones, namely progesterone and oestrogen, are secreted in higher quantities during pregnancy or when the skin is exposed to sunlight.
Increased secretion of female hormones causes a higher greater secretory response from melanocytes, thus resulting in the overproduction of melanin and patchy darkening of skin called a melisma.
Usually, hyperpigmentation or melisma is referred to as the 'veil (read: e-v-i-l) or mask pregnancy.
As per the American Academy of Dermatology, approximately 90% of people who suffer from hyperpigmentation are women (no dice, Sherlock), out of which 50% are affected during pregnancy as per the British Association of Dermatologists.
1) Million-dollar Make-up
While you can cover these patches with your hundred-dollar make-up, the sun's extremely harsh rays tend to melt your foundation layer, thus, exposing your skin's uneven tone and blotches through the buttery façade.
But most celebrity make-up artists prefer covering up patchy and hyperpigmented areas of skin with make-up that's not only long-lasting but also hydrating.
While you can camouflage your skin with a 24-hour long-lasting, movie-grade foundation and concealer in winter, covering your face in the summer becomes a problem.
According to Suzie Kim, a celebrity makeup artist, it is better to wear less makeup in summer to avoid a major melted beauty blunder. She also said to sport a dewy finish on your skin with the help of both moisturiser and bronzer rather than a matte finish to refract the light's rays.
For a dewy finish, Suzie Kim tends to explore her makeup products and doesn't stick to using those that are 'recommended heavily' by an influencer or endorsement.
For clamming a dewy finish, Suzie Kim treats the hyperpigmentation on her skin with a peach eyeliner that acts as a skin-correcting concealer and goes perfectly in summer.
Her makeup routine usually ends with a skin-tinted, hydrating moisturiser, a thin layer of foundation, and a bronzer that gives her skin a dewy finish.
She also sports a peach-coloured concealer when she wants to explore a heavy-coverage foundation and recommends using an orange-coloured concealer for darker skin tones.
Colour-correcting is a crucial step and is usually met with the requirements of your hyperpigmentation. For instance, if your hyperpigmentation is somewhat reddish, cover it up with a greenish tinge, and then proceed to fix it up with a skin-toned foundation.
2) Reverse Therapies
According to Dr Glenn Vallecillos of DMH Aesthetics, if makeup isn't helping you conceal your hyperpigmentation and make you more confident about your skin, you should perhaps turn to the stronger modalities.
From lightening serums containing retinoids and hydroquinone to light therapies such as intense pulse light (IPL) therapy, the skincare industry is currently roving with dermatologically approved radiant therapies that can help reverse the extent of your hyperpigmentation.
Retinol, a derivative of Vitamin A, is a much more proactive ingredient that's usually the center of most skin care modalities.
Retinol helps to boost the production of collagen and other elastins, therefore, helping to tighten your skin's open pores and making it more elastic and resilient to wear and tear.
Retinol also helps to improve the texture of your skin by reversing hyperpigmentation caused by sun damage.
Dr Vallecillos also recommends using a bleaching regimen consisting of retinol, hydroquinone and kojic acid when retinol alone is ineffective in eradicating or reversing hyperpigmentation.
3) Preventing Hyperpigmentation
If your hyperpigmentation is connected to hormonal imbalance, then it's vital to consider a dermatologist for the prescribed treatment as light therapies or bleaching regimens will sadly be ineffective in such a situation.
People suffering from melisma (hormonal hyperpigmentation) are usually advised to go for chemical peels as they help to inhibit the excess production of melanin in the skin.
This chemical peel, known as the Cosmelan Plasma Peel, works by inhibiting or blocking the enzyme, Tyrosinase that's responsible for stimulating the production of melanin.
In this way, excess production of the pigment is suppressed and prevented from surfacing on the skin, ultimately helping to reduce unwanted dark spots and patchy blotches from hyperpigmentation.
The Cosmelan Plasma Peel is preferred over laser therapy as the light-based treatments can induce post-inflammatory hyperpigmentation (PIH), albeit profoundly in people with darker skin tones.
In contrast to treating hyperpigmentation with light-based therapies, bleaching regimens and chemical peels, we were intrigued to find out if we can prevent dark spots from occurring in the first place.
The answer is yes!
For people who aren't make-up aficionados or those who wish to avoid using makeup in summer, using sunblock will do the job and help prevent your skin from the ruthless UV rays!
According to Dr Vallecillos, using a sunblock, preferably containing titanium dioxide, might help prevent the contributing culprit to dark spots, hyperpigmentation, and patchy scars from sun exposure.
Be treat-wise and check the label of the sunblock before purchasing.
Usually, a dermatologist will recommend you with minerals and a sun protection factor (SPF) of 30. Using a sunblock with SPF 50 wouldn't harm your skin otherwise.
Since SPF 50 protects your skin from 98% of UV rays in contrast to SPF 30 that prevents 97% of UV rays from penetrating your skin, you'd find that your preferred choice of sunblock (such as NIA 24) has only a difference of 1%.
Unable to find the right treatment for your spotted skin? Reach out to Find an Expert today and learn how you can acquire hyperpigmentation-free skin!