There is nothing worse than having a bunch of unsightly hair under your arms. It's disgusting.
Most people in the UK can't even think of having hairy armpits and keep them clean and hairless. However, some are too lazy to get rid of the stubble and compromise their appearance.
Celebrities are known to have their own fashion sense and style, making them stand out from the crowd. These days, we often get to see celebs with coarse hair under their arms. Sports personnel, people in the market, and many people working out in the gym keep the underarm hairs to show a different look, which doesn't look bad. But some look gross.
Either they are tired of shaving their armpits time and again or think that the loathsome hairs don't affect their appearance.
Whether you love wearing sleeveless tops/shirts or not, eradicating the unwelcoming hair from every part of the body, especially the arms pits, should be a vital part of your beauty regimen.
Shaving can result in cuts and itches, while waxing is painful and not for the faint-hearted. Both are time-consuming.
This is where Laser Hair Removal comes into play, the most advanced and long-lasting way of eliminating the unpleasant hair from under your arms. The best thing that makes Laser Hair Removal the go-to treatment is that people with all skin types can have it.
It gives you the much-needed confidence and peace of mind that hair won't come back any time soon, as is the case with waxing and shaving.
Hold on, folks, Laser Hair Removal is also a safe and inexpensive method compared to old-school techniques. We say this because you have to buy shaving foams, razors, aftershave lotions, expensive waxes, and waxing strips regularly.
Moreover, Laser hair removal (LHR) gives you lasting results. You don't have to worry about unwanted hair making a comeback in many months to come.
LHR removes the hair from the root and gets rid of troublesome ingrown hairs.
Preparation for Laser hair removal (LHR)
The laser Hair Removal process is not as easy as it seems. Although it involves zapping of hair, but being a medical procedure, you should only choose a service provider who is licensed, highly certified, and experienced in providing LHR treatments.
Because there are some risks associated with LHR, it is important to check the credentials of the provider before the treatment, as it requires proper training.
Also, if you've got plans of getting your armpits cleaned with LHR, make sure you lower the frequency of traditional hair removal methods like shaving, waxing, and plucking for 4-6 weeks before the process.
Furthermore, experts suggest less exposure to the sun six weeks after the treatment.
Excessive exposure to the sun's harsh rays can result in complications post-treatment, and the chances are that even the most powerful and latest lasers won't be as effective.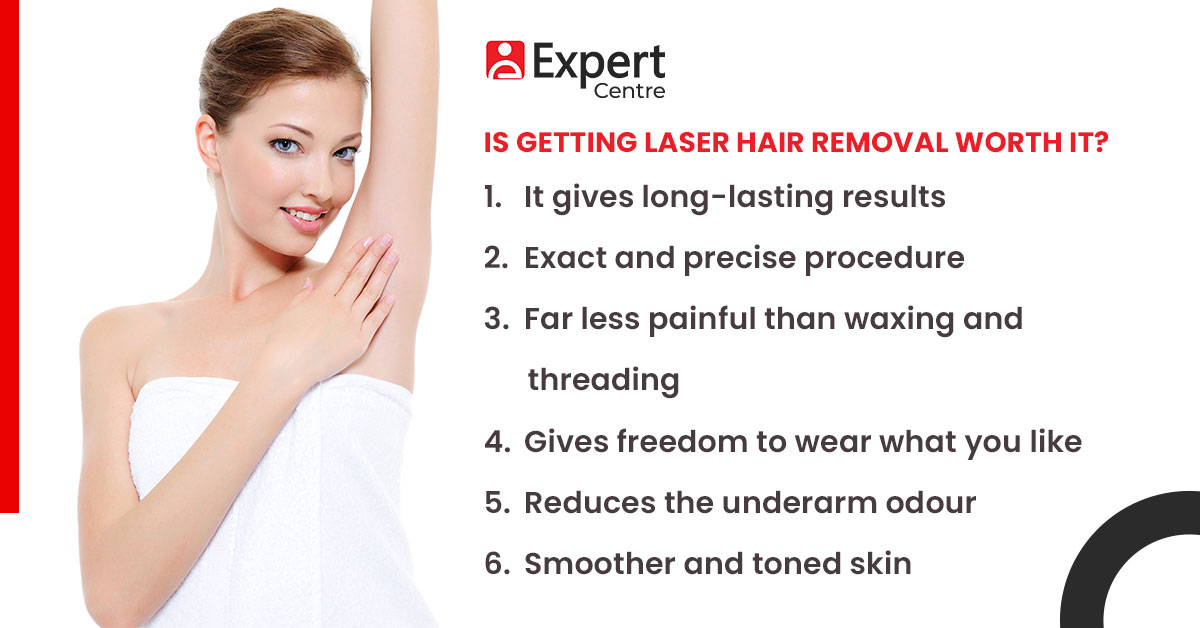 Underarm Laser Hair Removal
When the hairs are uprooted from the roots, the appearance of your underarms is enhanced. You are no longer vulnerable to bad odour caused by sweating due to a bush. It even works on coarse hair.
The complete procedure for underarms takes less than 10 minutes. With no recovery time, LHR is surely a must-try treatment for those who want quick and lasting results.
The powerful beams of the laser destroy the hair follicles without affecting the surrounding area.
You will notice great results from the first treatment. However, to achieve permanent results, you may be required to undergo six sessions spaced at 4-8 weeks apart.
Underarm Laser Hair Removal Cost
The cost of underarm Laser Hair Removal in the UK depends on multiple things like skin type, sessions required, experience and qualification of the service provider, and the clinic's area.
Recovery and Risks
One or two days post-treatment, you will feel as if your skin is sunburned.
There is nothing to be worried about as it is completely normal.
Your doctor will suggest cool compresses and moisturisers that will bring the skin back to normal. You may also experience blisters during the treatment, which will ease in a few days.
They are rare for fair-complexioned people but more likely to be experienced by those having a darker skin tone.
Some other risks involved in LHR include pain or discomfort, swelling, redness (can last for a few days), lightening or darkening of the skin.
Choose the best LHR centre
One interesting thing to note here is that all treatments for LHR are not the same. We, at Expert Centre, use the most advanced and effective medical-grade ND: Yag and Alexandrite Lasers to give you great results. Our specialty is to provide bespoke treatments based on your hair and type of skin. These bespoke methods allow you to see visible results from the very first treatment.
Our highly professional and globally certified aestheticians use bespoke protocols to treat dark skin with unbelievable results.
So, when are you getting rid of the unpleasant hair of your underarms? Our passionate and friendly staff is eagerly waiting to serve you with the best of our knowledge and equipment.