The quest for having fresh, young and glowing skin is an unending one. People in the UK and all over the world want something that bestows a lit-from-within radiance. No wonder people are getting overwhelmed with the number of treatments claiming to provide a flawless finish.
Up till now, different forms of treatment like fillers, thread lifts, liposuction and Lipodissolve have had the major share of cosmetic skin treatments. However, in the noise of promising false claims and exaggerated results, there is one treatment by the name of Mesotherapy that can provide you with a tightened, rejuvenated and healthy glow to give you the skin of your dreams.
Are you one of those Brits who haven't yet heard of Mesotherapy and its miraculous results?
Just spend 3-4 minutes of your precious time, and you will get to know all about this incredible skin-beautifying process.
What is Mesotherapy?
According to Dr Phoebe Jones, a Cosmetic Physician at Concept Cosmetic Medicine in Sydney, it is a non-surgical skin enhancing procedure based on injections of micro amounts of skin-nourishing nutrients infused into the dermis to achieve a lasting glow.
While explaining what Mesotherapy is and how does it work, Dr Frances Prenna-Jones, a qualified medical doctor with tons of experience under her belt and one of London's most in-demand skin experts, says, "It's a procedure involving tiny injections into the surface of the skin."
Adding more, she says, "These injections contain a combination of vitamins, minerals and other components naturally found in the skin, such as hyaluronic acid that diminishes with age."
Different types of mesotherapy can be administered. Each is designed and tailored depending on collagen loss, hair loss, cellulite, or even excess fat.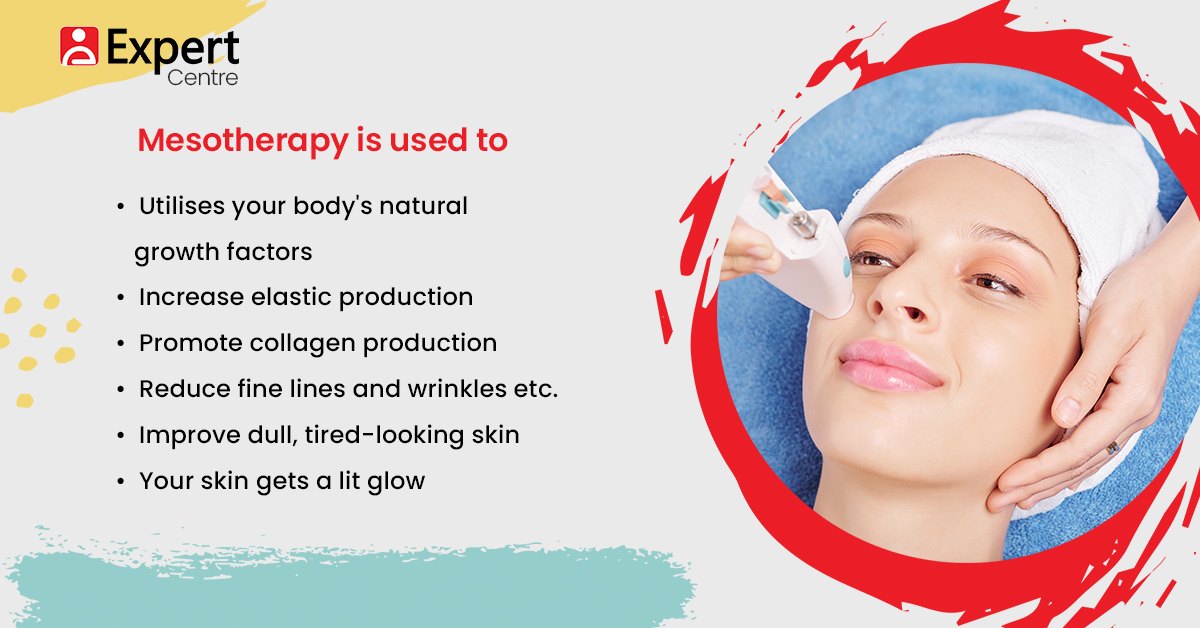 Is it effective?
Yes, it is extremely effective, and people worldwide are flocking in to get this treatment to enhance their looks. "The effectiveness of Mesotherapy depends on the components infused into the skin," says Dr Jones.
Plus, the addition of nutrients leads to radiance and skin rejuvenation. The microneedles and stretching of fibroblasts lead to neocollagenesis or stimulation of collagen and elastin, which rebuilds and repairs the skin from the inside.
The addition to multiple nutrients gives ideal results and results in you having healthy, revived and plumper looking skin with a significant reduction of ageing signs like wrinkles and fine lines.
Going for multiple sessions of Mesotherapy can give you ideal results which are long-lasting and better than any surgical option.
The main benefits that you achieve are moisturised and nourished skin. So, people suffering from ageing skin, have dry and dehydrated skin or who spend most of their time under the sun must go for it.
What to expect from this amazing treatment?
It all starts with a consultation where the doctor will guide you through the entire procedure, like how will it be done, what nutrients will be infused, how will it help them boost their appearance and any side effects they may experience.
One week before going for this cutting edge treatment, the service provider may ask you to stop using aspirin and nonsteroidal anti-inflammatory drugs as they come with the risk of bleeding and bruising.
The doctor will start the treatment by applying an anaesthetic on certain areas to be injected so that you don't feel any pain. You will have to wait around 30-60 minutes for it to work.
Now, the specialist, with the help of microneedles, will inject the cocktail of natural herbs, hyaluronic acid or growth factors into the skin. You will have to undergo multiple injections. The process is quick and will take 40-45 minutes. You won't feel any pain or discomfort thanks to the use of topical anaesthesia.
The needles will be inserted 1-4 mm under the skin. The depth of the injections will depend on the issue concerning you and the results you want to achieve.
Based on the skin condition, age and issues bothering you, you may be advised to go for multiple Mesotherapy sessions. The doctor is in the best position to suggest the right number of sessions to provide you with the ideal results.
Although the process entails using needles, it is less invasive than dermal fillers and Botox, which only rectify wayward lines and help you achieve selfie-perfect pouts. Mesotherapy is known to boost your entire complexion.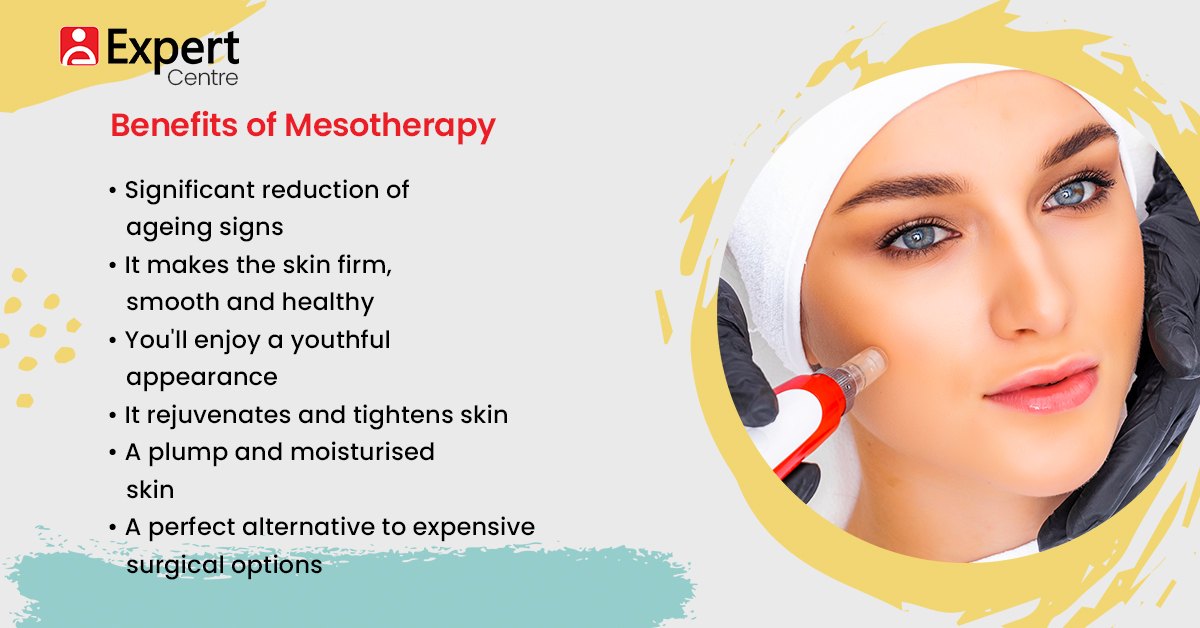 No-needle Mesotherapy
If you don't like the feeling of needles penetrating your skin, you can opt for a No-Needle Mesotherapy. This alternative to the needle-based treatment uses a low-frequency skin rejuvenation device to push the multi-nutrients deep inside the skin.
One slight drawback of No-Needle Mesotherapy is that the penetration of the cocktails can be a bit limited compared to conventional treatment involving needles.
Tailored nutrient cocktail
It is important to tell you that this specific treatment involves different types of tailored nutrient cocktails to be infused into your skin using needles. These cocktails impart an internal glow, enhance health and boost your complexion. These tailored cocktails enrich the skin and give you a refreshed and improved appearance.
Best Mesotherapy cocktail
You can't say a specific cocktail is better than the other or if one provided beneficial results for someone will prove to be great for you too. The best cocktail or combination of multi-vitamins depends on a person's skin type and concerns.
The solution to be injected inside the skin can be made of different elements like multiple vitamins and minerals, hyaluronic acid, platelet-rich plasma (PRP), botulinum toxin, growth hormones or antioxidants etc.
Who is the ideal candidate for this treatment?
Best for all those who want a non-surgical, non-invasive treatment to achieve a glowingly healthy finish. It not only reduces ageing signs but also leaves your skin fresh and invigorated.
Is there any downtime involved?
As it is a non-invasive treatment, so there isn't any downtime associated with it. We've seen many people returning to their daily activities straight away. Some people take a day off from their normal routine due to the slight risks like swelling and pain at the injection sites.
All the amazing results of Mesotherapy facial can be availed only if you select an experienced and well-renowned service provider like Expert Centre.
Expert Centre is one of the top non-surgical treatment providers in the UK. Their meticulous and custom-tailored treatments make them one of the best in the UK.
How can we forget the utmost quality that they provide at the most affordable prices? Book your service today.