Your face is the only outfit that you wear every day, so treat it right by going for such skin-friendly treatments that benefit your facial skin inside out. One of these treatments that you cannot rule out currently is the cosmelan melasma peel.
What is cosmelan melasma peel?
It is also known as cosmelan depigmentation peel. It is a chemical treatment based on various ingredients used to decrease skin hyperpigmentation and discolouration.
You may be aware that melanin creates whatever skin tone you have and the splotchy areas of the darker tissue. The cosmelan melasma peel is known to lower melanin production as it stops some enzymes resulting in an even-toned complexion for you.
Some primary uses of cosmelan melasma treatment
It enhances the health and appearance of the facial skin
The skin on your abdomen, legs, hands and breast area is improved significantly
Using this magical peel, you can get rid of dull and dry skin, dark spots, blemishes and acne scars
Discolouration caused by melasma on the nose, chin, cheeks or any other body part can be abolished
It also takes care of skin oils which helps in improving acne
Who is an ideal candidate for cosmelan pigmentation treatment?
The fact that cosmelan melasma peel is deemed safe and friendly for all skin types makes it a perfect and go-to aesthetic procedure for anyone looking for a bright, even-toned and fresh complexion.
Before going ahead with the treatment, the patient must understand the cosmelan treatment, cosmelan peeling procedure, downtime, results and many more.
All these things and other requirements will help them with after-care. Also, before going for this treatment, the patient needs to be in overall good health.
The expectations regarding cosmelan results and cosmelan peel should be realistic and quite clear. In case of any confusion and query, you might clear it in the initial consultation with the aesthetician or during the time of appointment.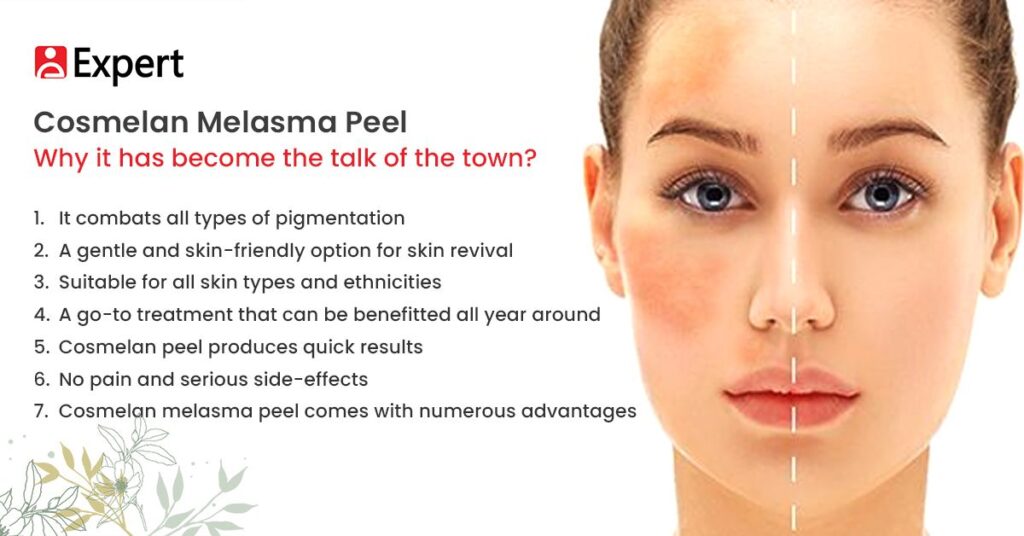 Benefits of cosmelan melasma peel
Some of the main benefits associated with cosmelan peel are listed below
You get rid of dull and dry skin, dark spots, blemishes, uneven skin tone, and hyperpigmentation
Be it Melasma or Chloasma, it treats both
Minimal pain is involved
Known for effective and quick results
It is a skin-friendly treatment and considered to be gentle for all skin types
No severe side effects. They are experienced in only rare cases
What happens during the consultation?
At Expert Centre, London's best aesthetic clinic, it all starts with a scheduled one-to-one consultation between the patient/client and the aesthetician. During your first visit to our state-of-the-art clinic, located in the posh locations of central London, we will thoroughly evaluate your skin, tone, texture and facial anatomy to get a better idea of what your skin type is like.
Our highly professional and globally certified staff will also talk about your medical history, and the aesthetician will discuss what you expect to achieve from this treatment.
After going through all the discussion and noting the points regarding your previous medical history, skin type, and desired results, a bespoke treatment will be created just for your skin type and ethnicity.
How is it done?
It's is a two-step process. In the first part, also known as a clinical procedure, a professional will apply a stimulating mask on your face or wherever you want your skin to be treated.
The second part involves the application of specific products from your home. At Expert clinic, we only take 45-50 minutes to complete the first part.
Part 1: Clinical procedure
It all starts with preparing and cleaning your skin.
Followed by the application of a cosmelan mask. It may sting at the start, but don't worry, the discomfort sensation will slowly decrease.
Depending on the results you and your treatment provider settled on, you may be advised to wait for 6-12 hours before removing the mask.
The physician will tell you how and when to remove the mask from your skin at home.
You will be given after-care instructions as well as the products to be applied from home.
Par 2: At-home care
Once the specified time is up, you will have to remove the cosmelan mask using a gentle cleanser.
Immediately after the removal of the mask, apply a hydrating cream to your face. This ultra-hydrating cream locks in the moisture of the skin and gently soothes it.
You may experience peeling after 2-3 days of applying the mask.
The physician will instruct you to use a lightening cream twice or thrice daily for 14 days.
After 2 weeks, apply the lightening cream once a day.
Expected results from cosmelan peel
The skin blemishes will start fading within a week's time, and you will see a glowing and illuminated complexion appearing.
After two weeks, you will be over the moon to see radiant, rejuvenated and healthy skin. All these effects bestowed by cosmelan peel improve even further in the coming weeks.
If you follow the home-care skin routine as advised by your aesthetician, you will have soft and smooth skin, and the results will last for many months.
Note: For about 2 weeks after the treatment, your skin will be very sensitive. It must not be exposed to the sun and other harsh weather conditions. Before going out, it is necessary to apply a high SPF sunscreen to protect the skin.
Potential complications from cosmelan
Although there aren't any serious side effects of this beneficial skin treatment, some patients can face mild to moderate redness and discomfort. Once the treatment is over, the patients may feel tightness in the skin or a slight itchy feeling.
Some serious complications which are very rare are scarring and pain. These happen when you don't select an experienced and professional service provider. It is imperative to visit a well-known and reliable cosmelan peeling treatment provider like Expert Centre, which is highly qualified and treats your skin using a bespoke mask.
We are known to be extra cautious when it comes to our patient's skin, and all our clients are fully satisfied, which is the exact reason we never get any negative reviews.