It's true what they say, "you only get one chance to make a first impression." And the same can be said for your jowls. You only get one chance at a youthful jowl-free face. Most people are tired of spending hundreds of dollars on filler injections or countless hours in the gym doing endless crunches and looking good with sweat beads dripping down all over your face. Well, rest easy. The future is now with HIFU Facelift technology.
Weary from a lack of sleep? Feeling the wear and tear of age, stress, and UV rays on your skin? Whether you're in your mid-20s or pushing 40, a facelift can help restore the appearance of health to your face. According to The New York Times, the popularity of HIFU has grown over 50% since 2019. And this past year, a record number of women have been choosing the HIFU facelift as opposed to more traditional surgery or injectable fillers.
Fugly Jowls is an increasingly common complaint these days, but it doesn't have to take over your life! With HIFU technology, ageing can be reversed, rejuvenated skin brought back into its prime, and tired eyes put back to sleep.
In the modern times of advanced medical and beauty treatments, one procedure that has really taken off is HIFU facelift treatment. HIFU treatment, when compared to a conventional facelift, targets various depths of skin for tightening, lifting and contouring. Moreover, it is known for skin toning, which combats signs of ageing and gravity.
This modernistic skin face beautifying treatment involves ultrasound energy to stimulate collagen, make the skin firm, and eradicate the signs of ageing. HIFU facial treatment is known to give you refreshing, well contoured and beautiful skin.
A bit about HIFU facial's history
Also known as the best facelifting treatment, it was first practised in 2008. One year later, the FDA approved HIFU non-surgical treatment for brow lifts. Since then, HIFU treatment has won the confidence of both aestheticians and people who want flawless and gorgeous facial skin.
After it got famous, people started going for it as HIFU results were incredible. They could see amazing results in a couple of months after the treatment. The nest part is that HIFU facelift doesn't come with many risks compared to other treatments done for facial betterment.
Why go for HIFU?
The main reasons why HIFU face lifting has become the talk of the town are:
Skin tightening
Face lifting
Body contouring
All these benefits can be achieved easily by going for High-Intensity Focused Ultrasound treatment. And this is why HIFU, when compared to conventional facelift techniques, is considered the best. This non-surgical treatment is for all those who fear the surgical option for its long recovery time and cost.
As an aesthetic doctor practicing in Vancouver, I get many questions about whether a non-surgical facelift is right for people who suffer from serious skin sagging conditions. For most people, yes, it is the ideal treatment and has a lot of advantages that other procedures don't have. However, HIFU's non-surgical facelift is not suitable for everyone, especially those with advanced skin sagging.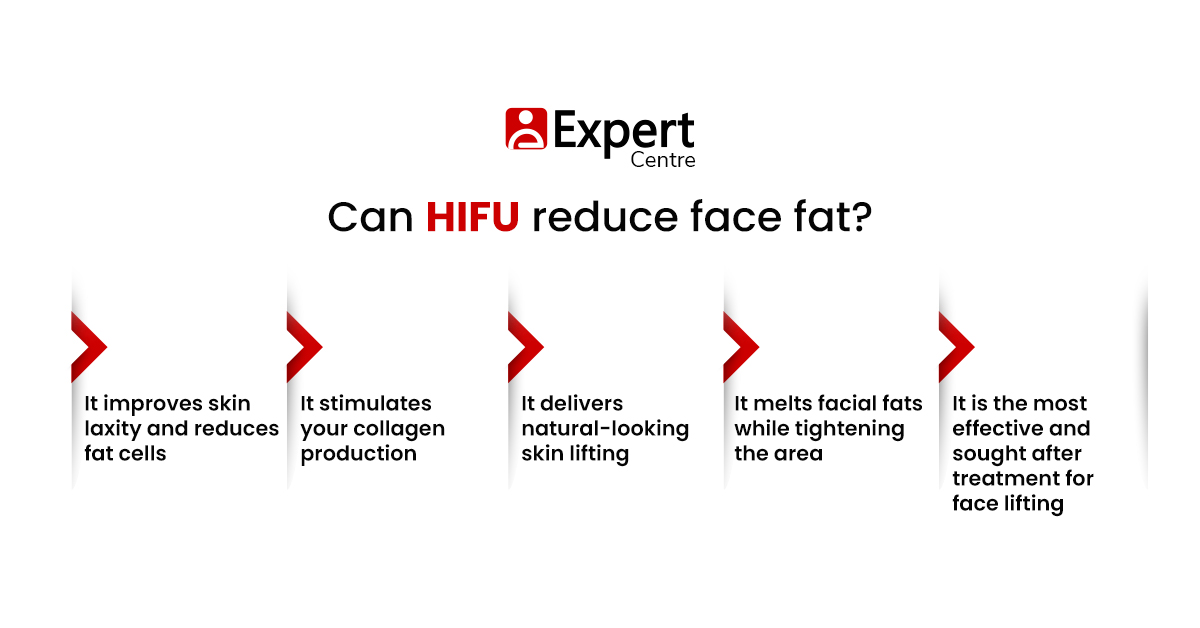 What actually is HIFU?
Ultrasound facelift involves targeting face and décolletage to penetrate the lower layer of skin by surpassing its surface. The purpose of directing the ultrasound energy is to stimulate the collagen that lies in the structural tissues and deep muscles.
Here, a tightening effect of the skin is experienced when the collagen fibers rejuvenate and shorten. This results in the steady restoration of skin and tissues, giving you an appearance that you could only dream of.
What can HIFU do?
HIFU has been deemed a great treatment for lifting and tightening cheeks, the surrounding area of the cheeks, sharpening of jowls and jawline. Other benefits that come with this brilliant and safe procedure are:
Lifting of brows
Significant lowering of wrinkles around the eye area
Diminishing of excessive skin on upper eyelids
Smoothening of lips and area around them
Enhancing the outline of the chin
Lowering of marionette lines
Significant reduction of ageing signs like wrinkles and fine lines
Tightening of overall skin
Overall improved skin texture
The best thing about HIFU facial treatment is that you can see visible results even after the first treatment, and it doesn't require any lengthy preparation. Experts say that many clients notice encouraging results after the first treatment; however, the ultimate results can be seen in 2-8 weeks.
Why? This is the time required for collagen to rejuvenate the start benefiting the skin from the inside.
One-off treatment
The reason why this treatment is special is that you don't have to go for repeated treatments. You get great results on only one treatment of HIFU facelift. These great results last for a minimum time of 6 months to 1 year. The maximum time for these results to be noticed is 2 years, depending on your age, diet, and lifestyle.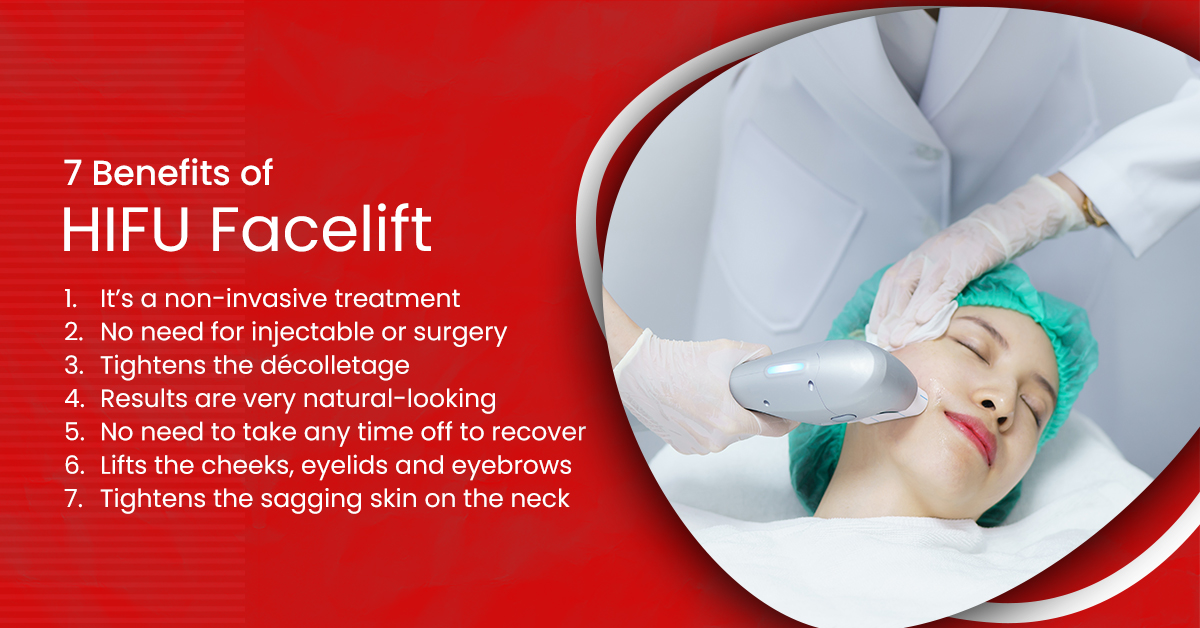 Advantages of HIFU face-lifting treatment
A study conducted by the American Society for Aesthetic Plastic Surgery (ASAPS) that HIFU ultrasound facelift has gained immense popularity in the last 4-5 years. According to them, the number of people opting for this procedure has increased by a whopping 70% in the last 5 years.
Below mentioned are some of the benefits of HIFU:
You will have skin with lowered ageing signs than before
No more skin sagging on the face, especially your décolletage
It is considered great for cheek, eyebrow and eyelid lifting
Enhances your jawline definition
Skin tightening and rejuvenation
Your skin will give a young and refreshed look
A study involving 32 Korean students found out that this high-tech skin lifting procedure showed speedy improvement in skin, and these participants experienced elasticity on cheeks, décolletage, lower abdomen and thighs in just 8-12 weeks.
Another study favouring HIFU, involving 93 participants, shows that 72% of these people experienced a significant improvement in their appearance and skin texture in three months.
Its procedure
It all starts with an aesthetician wiping off whatever makeup you have on your face. Then a gel is applied to the area that needs to be targeted with ultrasound energy, followed by directing HIFU rays over the specific area. After the passing of the device over the treatment area is complete, you will be given an enjoying a soothing mini facial.
The time taken for this treatment depends on the area to be treated. For example, your jowls make take 30-40 minutes; on the other hand, a complete HIFU procedure may take around 150 minutes. You will start noticing results after 2-3 weeks, and 8 weeks is the time when everyone gets full results.
However, be mindful that you may have to go through a radiofrequency treatment after 2 weeks. Why? This treatment will enhance the results gained by the HIFU lifting process. If you experience swelling, redness and slight bruising on the treatment area, there is nothing to worry about, as all these signs will wither in a day or two.
Who should go for HIFU?
This treatment is deemed wonderful for all those people ageing between 30 and 70. So, if you wish for skin tightening, rejuvenation and abnegation of ageing signs, this skin-friendly treatment is for you. It is for all those who don't want to spend heavy money on surgical processes or those who don't go through the pain involved and the recovery time. If you are pregnant or a lactating mother, it is not for you.
Downtime of HIFU
Combine all the benefits of HIFU mentioned above with the fact that it doesn't have any downtime involved. This is why it has taken over all traditional treatments. As it is a non-surgical treatment, you can walk off the clinic pretty normal and continue your work.
Plus, because you don't need to do anything extra with your skin, your aesthetician or doctor will do everything. After the treatment, you can use a nourishing mask on your mask. However, before doing it, it is important that you consult your physician.
Important: It is important to use sunscreen before going out in the sun, even on cloudy days. It is important not to visit any saunas or steam rooms for 2 weeks after the HIFU facial lifting. Consume plenty of fluids in the following 24-48 hours after the treatment and no alcohol at all.
Which body areas are best for HIFU treatment?
The most common areas where HIFU treatment is done are the face, shoulders, and neck. However, it can also be used on the thighs and abdomen to treat skin sagginess. Considered the best face lifting treatment, HIFU not only eliminates the ageing signs but stops them from visiting your skin for a specific period of time. It is treats area like forehead, eye, lips and their surrounding area.
Moreover, it helps in tightening the cheeks, defining the jaws and chin. Add to that the benefits like smooth and enhanced skin texture, improved elasticity and internal rejuvenation and nourishment.
So if you think that it's time to look young and beautiful, HIFU is the treatment you need to go for. After only one session of this amazing treatment, your décolletage area will appear tightened and young, and you won't be able to spot any marionette lines or wrinkles on your face.
Does HIFU hurt or not?
We receive a lot of questions from the world where people want to know how painful this procedure is. We at Expert Centre can tell you with surety, based on our experience, that this procedure doesn't hurt. This is the reason why we call it a skin-friendly treatment.
You may experience a bit of tingling or warm sensation, which is completely bearable and nothing serious. The slight discomfort you may feel during and after the treatment is a healthy sign that the collagen inside your skin is stimulated and will start working the way it should.
So, you don't worry about anything as whoever visits our clinic for HIFU facelift treatment leaves our premises with no problem bothering them. In fact, they leave quite happily, considering the benefits of this treatment for their skin and how they will look after a couple of weeks.